Nigerian Aviation Industry: Evaluate Government Policies Since 1999 – Olowo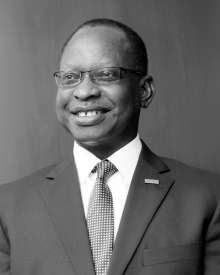 President/CEO Sabre Network West Africa, Dr Gabriel Olowo has called for the evaluation of Nigeria's aviation policies since the country's return to civil rule in 1999 – starting with President Olusegun Obasanjo's tenure. The Nigerian aviation industry veteran said this is the only way aviation can do better in Nigeria.
"Nigeria doesn't seem to have a will; the will. And that is why I keep challenging the authorities that we want to measure delivery from government to government. Eight years of Obasanjo, eight years of Jonathan, and now, the ongoing eight years of Buhari; let us measure delivery as regards the Nigerian aviation industry."

Gabriel Olowo
Olowo, who is also the President, Aviation Safety Round Table Initiative, highlighted three key areas of aviation that must be evaluated as yardsticks to measure public contribution to the growth of Nigerian aviation industry.
"What do our airports look like today since the last 20 years of civilian management of the polity? What has become of our airports? Where are the airlines? How about our airspace? Can we see progress? If there is no progress in those three key areas, we are only joking."

Gabriel Olowo
He, however, asserted his belief in the potential of Nigerian aviation industry to be the foremost economic sector contributing hugely to Nigeria's Gross Domestic Product.
"I see aviation as the number one stimulus for the growth of our GDP. It is number one if we are ready."

Gabriel Olowo
# # #
For more information about this issue, please send your correspondences to media@sabreng.com